Young Adult/Middle Grade – New Release – Emily Knight
The third installment of A. Bello's Emily Knight series, Emily Knight I am . . . Becoming, has been released and the buzz has been amazing! The recipient of a prestigious Carnegie nomination and the first place winner of London's BIG Read 2019, Emily Knight I am . . . Awakened shined in both concept and delivery. As the second in series, it left many eagerly awaiting this new release. And it was SO worth the wait!
Emily Knight is young and famous, self-aware and intelligent. But what if the one thing that makes Emily different also makes her a target for evil? Can she defend herself…and everything she loves? This third installment follows her as she reunites with the other Knights and fights against the dubious moves of Neci to save everyone and everything important to her. A.Bello breaks boundaries with this gritty and gripping middle grade/young adult fantasy series. Start at the beginning or jump right into the action. Each book reads beautifully on its own.
About the Author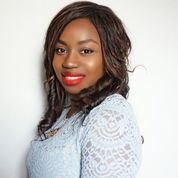 So who is the talent behind the beloved Emily Knight series? Abiola Bello, an award-winning author and publishing entrepreneur, who was born and raised in London, where she still lives and works to this day.
In 2018, Abiola was named 'Trailblazer of the Year' by London Book Fair. She wrote her first novel at the age of eight–when she fought monsters and dragons on a daily basis–and experienced her first taste of 'being published' after winning a school poetry competition at the age of 12.
The first incarnation of the Emily Knight story can be traced back almost 20 years; Abiola wanted to fill the gaping hole in children's fiction for an inspirational, strong, black, female, young protagonist. This 'gap' in publishing remains in today's publishing world despite continued calls for more BAME authors and diversity within characters and plot lines.
She is the founder of The Lil' Author School and co-founder of The Author School (shortlisted for The Great British Entrepreneur Awards 2016 and celebrating its fifth birthday in 2020).
Bello is also regularly asked to contribute to the media; she has been featured in About Time Magazine, Cosmopolitan, Female First, Daily Mirror, BBC1XTRA, The Bookseller, The British Blacklist, Melan Magazine, London Post, and many more.
Find A. Bello and her wonderful words at www.a-bello.com and get ready to be inspired. I know I was!