Welcome, Cora! I'm so excited to have you as our Author Interview this month. MAGIC REMEMBERED and the delightful Calliope Jones have held a special place for me for some time, and I can't wait to chat with you about it and all your other works since its release. Can you breakdown your series for us and how the witch worlds interweave?
I'm working in two series at once—the Calliope Jones novels and the Sister Witches Urban Fantasy series. Calliope's books take place mostly on Salt Spring Island, and the Sister Witches are set in Northampton, MA; Chamonix, France; the demons' Reformed realm; and also Salt Spring Island.
I am far enough along in both series to begin to overlap them more. I'm in the editing phases of the 5th Sister Witches book, which will have sections narrated from each sister's POV. This book will simultaneously tie up loose ends, and set the stage for each sister to go on to her next big adventure.
Starting in September, I will be writing the 4th book in Calliope's series, which will include characters and events from the first Sister Witches book, "Once Blessed, Thrice Cursed".
There is a magical being called a 'melusine'—a female who can unfurl her fish-like tail once a month, and never in front of men—and I am so looking forward telling readers all about what happens next!
That sounds incredible!! And a brilliant way to spend my fall, getting caught up on the series and ready for the new releases! What inspired you to start writing the series?
The day I decided to switch gears from writing Contemporary Romance to writing Urban Fantasy, was one I will never forget. It was August, and I was sitting outside on a friend's deck, overlooking a hill of fir and arbutus trees and the ocean. It was a magical setting and when the author I was having iced tea with said, "Write what you love to read", something clicked.
My first Urban Fantasy heroine—Calliope—made herself known inside my head on my walk home. She would be an earth witch, she would live on the same island I call home (Salt Spring Island, BC), she would be divorced, have two sons in their teens AND she would be at least 40 at the start of the book (I'm fascinated with writing more 'seasoned' heroines).
I've always loved how you handle 'seasoned' heroines. You honor them in such a real and fabulous way but allow for the relatability of any aged adult reader at the same time. Is that what motivated you to start writing in the first place?
I've always loved to write (and to draw) and I only got serious about writing pieces longer than a 1000-word blog post in 2016. I wrote a romance novel that will never, ever see the light of day, and I was hooked on storytelling.
Now that I'm about to publish my 12th book, I continue to write because I literally cannot stop! These characters come into my head, and they're loud. Or they're quiet and mysterious. But each of them has an adventure they want to go on and…how can I say no?!
I'm so glad you DON'T tell them no! lol That way we get to read their adventures! Tell me about your writing process. How do you keep all those adventures in order?
I was able to start writing full-time when my youngest son was a sophomore in high school. Even though I always worked while raising my four sons, I worked for myself—which had built-in flexibility. As a full-time writer and author, I need long stretches of solitude and gazing out the window, both of which were just not possible with a house full of boys! I don't think I could have started writing any earlier.
I am up and at my desk by 6:00am, all year round. I find it very hard to take time off from writing, editing, marketing, and the myriad details that go into self-publishing.
When I begin a new book, I open a new file in Scrivener. But before I do even that, I need to have a strong opening image or snippet of dialogue—something with the potential to spark an entire novel.
It's important that I know who the main character is, what they want out of life, what their strengths are, and where they are weakest or at their least developed. I like to fit all of that into the very first chapter—even if it's just little hints. Because I write Urban Fantasy, romance takes somewhat of a backseat, but it is still very important. I've had fun playing around with the 'Fated Mates' trope throughout the Sister Witches series, and building a slow-burn romance into Calliope's series.
Once I'm close to finishing my first draft, I go from Scrivener to Word, so that I can also start to comb through the manuscript, start the editing process, and keep track of my edits and comments.
That sounds like a well-oiled system! Is it hard to find balance still, even with the kids out of the house? I've personally given up on it with my three littles running around, but I have high hopes for the future. lol
Balance is such a tricky word. When I was in the thick of raising my kids, I can remember laughing hysterically whenever anyone would talk about 'balance'.
Now that I'm no longer in those wild years, I have a healthy respect for the concept and I have writing friends—and a husband—who are very good at reminding me to shut off my laptop and go for walks and do something more than obsess over characters and plots and book cover designs!
During these months where COVID-19 and all of its societal after-effects has been a major part of all our lives, looking for balance has become even more of a challenge—and even more necessary. As an introvert, I've been mostly okay with self-isolating. I get along really well with my spouse, we have 2 very understanding cats, and I can see mountains and the ocean from my windows.
But I can't travel to the US to see my mother, my sister, three of my sons, and my dearest friends. I try to balance that sadness with connecting with people as much as possible over Zoom and other apps. And now, more than ever, it feels really important to let people know how much I love and appreciate them.
That's so true! This year has definitely taught me to slow down and focus on enjoying myself more in the moment. I've also noticed that issue with many of my characters, too! Do you share any crossover traits with your characters?
Every single one of my female characters—major and minor—has something of me in them. If you want to know who got what, you'd have to ask my husband. 😉
Maybe I'll start a Partners of Authors interview series one day and do just that! It might be super fun to read about living with us as authors! Then again . . . also a little frightening. Who knows what quirks would be uncovered that we creatives think we have stealthily hidden away. In the opposite light, what is the one thing you want all readers to know and walk away from your books with a clear message about?
I'm an artist, a mother, an environmentalist, and I'm married to the love of my life (who showed up at a high school reunion!).
What that says about me is… I believe that figuring out who you are and what you're passionate about—even who you're passionate about—can take a long time. Over the course of your life, your goals can change, and it can be awfully hard to do it 'all' when you're trying to do it 'all at once'. Have patience with yourself. Have faith in yourself. Let your light shine. Others will see it!
What that says about my books… I have always, always, found being in nature to be a magical, at times spiritual, experience. I draw inspiration for the systems of magic in my books, and for the characters, from nature. And I would hope that readers come to see their own worlds with a little more 'magic' in them by the time they get to each book's end.
I love that SO much! Having patience with ourselves as much as we would others is so often overlooked. And remembering to look for the magic in the world around us, too! Thank you for the reminder! And thank you for the lovely interview today! Can't wait to chat again soon!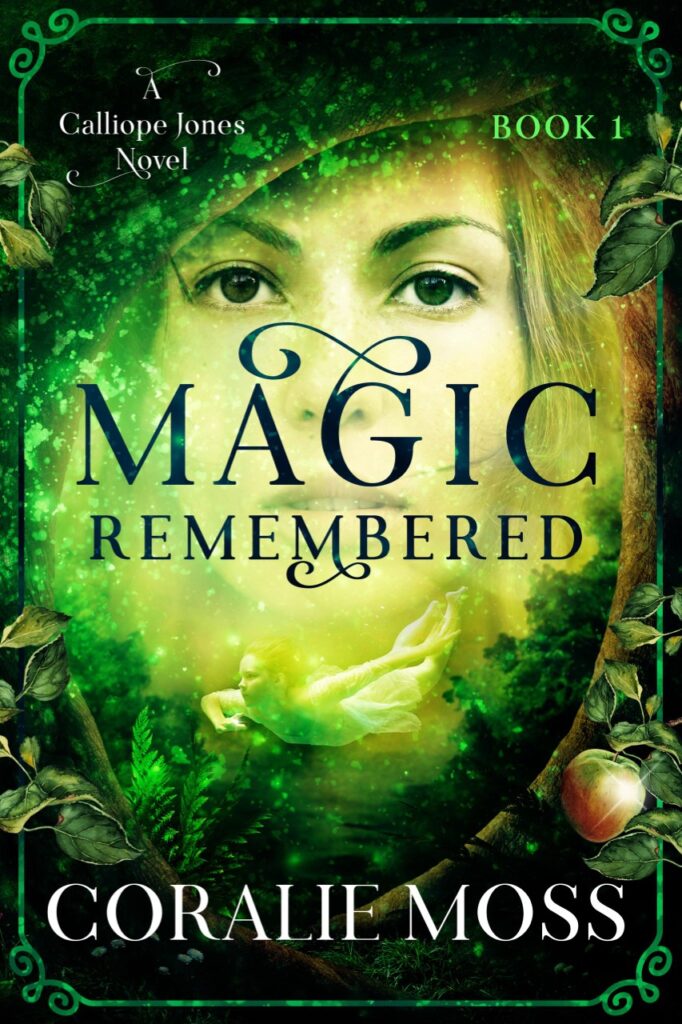 FIVE STARS
"Calliope Jones is my new hero! It's awesome to read about someone that I have things in common with, almost adult children and more "life experience". There is such a menagerie of magical beings in this story- a little something for everyone." — Robbin
Coralie Moss – Facebook, Instagram, Twitter,  Goodreads, Bookbub