Own Voices Author – New Release – Yousra Imran
Hijab and Red Lipstick is a real and sometimes raw depiction of the coming of age story of Sara, a young British Muslim woman growing up between London and the Middle East. Her father's conservative interpretation of Islam makes Sara's life complicated, but when he moves her and their family to the Arabian Gulf for his job, life becomes nearly unbearable. In a country where you have to have your father's permission for everything, Sara begins to feel suffocated. Forced to takes steps to find freedom, she risks forever the already strained relationship she has with her father.
This Young Adult read is sure to be eye-opening and a discussion starter for all those that pick it up. It offers unique insight into countries such as Saudia Arabia, Qatar, and the UAE, where people's personal lives and coming of age experiences are rarely spoken about in detail. Trigger warnings* exist, and for many young adults, this story may be best read with an adult that can help dissect some of the traumatic moments and nuances of Sara's experiences. It's also important to note, as is done in the story, that the depiction of Islam in Hijab and Red Lipstick is not meant to be a global one. Yousra Imran shares Sara's story so clearly, the best way to understand it is to dive in yourself. Just make sure you're settled in for an unputdownable read when you do!
About the Author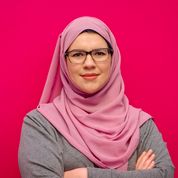 Yousra Imran is an English-Egyptian hybrid who works and lives in West Yorkshire. She has been writing from the moment she learned how to hold a pen and works full time in marketing and events in the education sector.
The newest winner of the Hashtag Press Competition (January 2020), Yousra grew up between the UK and the Middle East and has a BA Hons in International Relations. She is passionate about women's rights and gender justice. Yousra lives with her husband in West Yorkshire.