Hi, Luna! I've been looking forward to this Author Interview for months! TIDES OF TIME was one of my favorite reads last year, and I still can't believe I haven't devoured the others yet! What inspired you to start writing the Legacy Series?
I grew up in a home that valued story. My writing journey began when I realized I could tell stories to entertain others. I've continued to write because those stories entertain me. Plus, I enjoy tinkering on craft and story ideas to make a better reader experience.
For these stories, I was stuck in traffic in Hollywood when the original idea for a witch series set in the future hit me. My current series stemmed from the backstory of that idea's loudest character. She is a toddler in this series. It's fun that a story idea can evolve so you can see it from the point of view of several characters.
I kind of love that you're several books in and have barely tapped into the initial source of your creative spark! I'm so excited to see what happens next! MAGIC TOUCH was so well-received as book 2, and you just released the 3rd book in the series over the summer, right? What is KILLING SONG about?
Forbidden lovers or fated mates?
She's a siren and an assassin.
He's her FBI security detail and her next hit.
Can they solve a murder, outwit a succubus, and overcome seemingly impossible odds to find happily ever after?
That sounds incredible! What is one of your favorite scenes? Can we get a peek inside?
I love the resolution of the final battle, but let's go with a quieter non-spoiler moment.
Here, our blade-happy siren and assassin heroine is shaving our hero with a straight razor before he's marked as her next hit by the queen she is forced to serve:
"Now you can look." With one hand, she held him steady and lifted the blade to his throat. She paused, meeting his gaze.
He wet his lips so he might not sound strangled with the sudden constriction in his throat. "Do it." He urged her with his eyes. "I trust you."
"You shouldn't."
Okay, I definitely need to get caught up. I've missed SO much! I can't wait to get reading! How do you balance your time? I find myself still searching for that perfect personal/professional/self-care time rhythm.
I work full time so writing has to fit in the free time that I have. Writing balances around reading because I was a reader first, my amazingly supportive husband, and our two-pound terror of a rescue pup (also known as #TinyEditor).
Making reading a priority is so important! I need to do better with that myself. I always feel so much more fulfilled and inspired as a writer when I feed my creative spirit first. It's an important part of taking care of ourselves. Loving books!
Love the books you love. Not as guilty pleasures but as the pages that give you escape or hope. You're worth it.
You always have such a bright but realistic take on life! What are three unique things about yourself? Maybe something that formed your outlook on things?
I've died and come back to life after a motorcycle accident.
I don't like coffee which I know is blasphemous to many.
I've run two half-marathons in two states on the same day.
Okay, it's official. You really are a bioionic woman! Sure, the accident survival is key, but no coffee? ? I don't know if I could write without it! Lol What writing crutches do you have?
#TinyEditor in lap, headphones in, book playlist on.
Music is a must for me as well. Sometimes I even imagine what others have listened to while writing. Some of my favorite books go hand and hand with favorite songs. Who are some of your favorite authors?
Classic: Daphne du Maurier's Rebecca because of its mystery and gothic influences
Current: Shelly Laurenston because she writes strong heroines, "sisterhoods," and the men who love them.
Indie: Can I pick one I love as a reader? Abigail Owen writes steamy witches, demigods, shifters, and phoenixes. Her dragon shifters—wow!
What a wonderful list of wonderful writers and themes! For those that have Luna Joya on their list, including me, what writing plans do you have in store for us next?
Book Four of The Legacy Series will be out in March 2021. I'm currently working on a spinoff trilogy of these five books that will be The Redemption Series. Fingers crossed conferences will be back in 2021.
Absolutely! I'm so looking forward to a new year with new hopes and a rejoined sense of community in person again. Thank you so much for joining me today! I can't wait to see all that you have planned.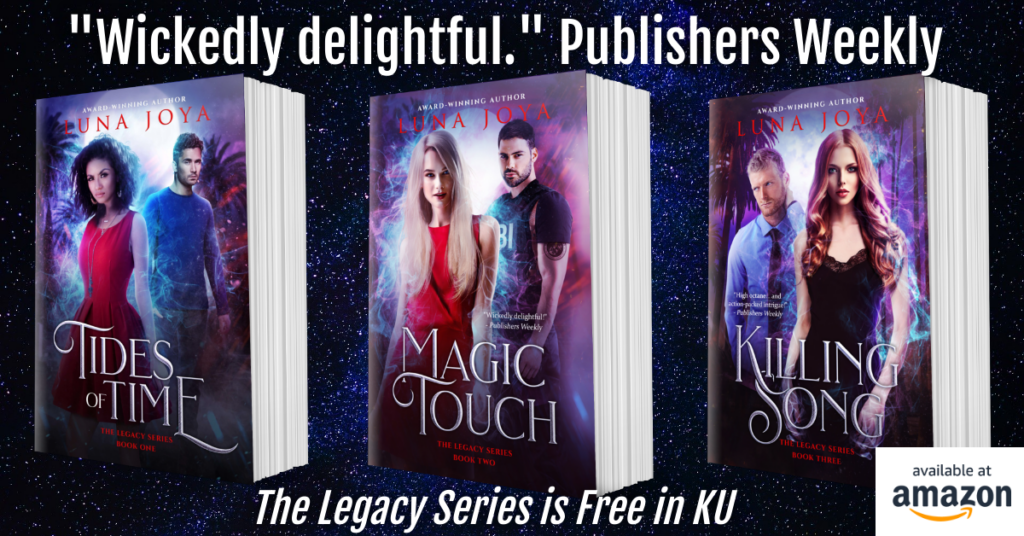 Find us on Social Media:
Luna Joya – Facebook, Instagram, Twitter, Goodreads, Bookbub
Taralynn Moore – Facebook, Instagram, Twitter, Goodreads, Bookbub